BIOTECH BCAA+B6 100 tabl.
Ostatnie sztuki w magazynie!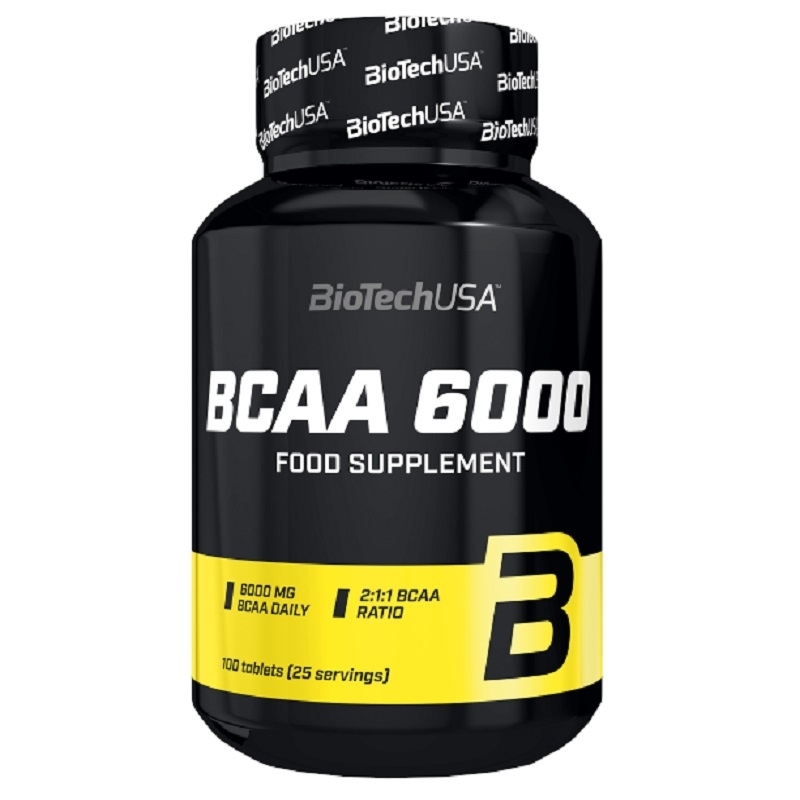 BIOTECH BCAA+B6 100 tabl.
Availability date:
Supports regeneration
Supports the work of the nervous system
Accelerates regenerative processes
It reduces post-workout fatigue

BIOTECH BCAA + B6 200 tablets is a supplement containing the amino acids: L-leucine, L-isoleucine, L-valine. It also contains the addition of vitamin B6, which has a beneficial effect on the work of the nervous system.

L-valine

L-valine is an amino acid belonging to the group of exogenous, aliphatic organic chemical compounds. This means that the body is not able to synthesize it itself and must be supplied from outside. Supports the processes of energy production in the muscles, the synthesis of pantothenic acid (B5).

L-leucine

The amino acid L-leucine is very important in the process of tissue reconstruction, it is not only a precursor to the synthesis of muscle proteins. It plays a special role in the regulation of intracellular signaling pathways, which makes it especially valuable.

L-isoleucine

L-isoleucine is an amino acid, more specifically an isomer of leucine. Like other amino acids, it plays an important role in energy, protecting muscles against breakdown. L-isoleucine supports the processes of protein synthesis in the liver and muscle tissue.

Vitamin B6

Vitamin B6, among other things, reduces the level of prolactin in men who have an excess of it, the appropriate level of this hormone has a positive effect on libido. It is a coenzyme of many changes in the body, e.g. transamination and decarboxylation of amino acids.

BIOTECH BCAA + B6 200 tablets is a tablet version that contains amino acids important for the human body with the addition of vitamin B6.
| | | | |
| --- | --- | --- | --- |
| Nutritional value | 4 tablets | %RWS* | |
| Leucine | 2000 mg | | |
| Isoleucine | 1000 mg | | |
| Valine | 1000 mg | | |
| Vitamin B6 | 1,4 mg | 100% | |
* Reference intake value for an average adult (8400 kJ / 2000 kcal)
Ingredients: BCAA Complex (L-leucine, L-isoleucine, L-valine); fillers: cellulose; hydroxypropyl methylcellulose; anti-caking agents: magnesium salts of fatty acids; fatty acids); vitamin B6 (pyridoxine hydrochloride).
4 tabletki dziennie jako suplement diety. W celu uzyskania jak najlepszych wyników, stosować 2 tabletki 30 minut przed treningiem i 2 kolejne natychmiast po treningu.
Opinie /

BIOTECH BCAA+B6 100 tabl.

4 tabletki przed oraz 4 tabletki po treningu i mamy fajnie zabezpieczone mięśnie. Super wygoda i nie duże opakowanie do przenoszenia go.

sprawdź pozostałe opinie
Najczęściej zadawane pytanie dotyczące zamówienia
Przesyłka wysyłana jest w ciągu 24 godzin, jeśli produkt jest dostępny w magazynie. Ostateczny termin otrzymania zamówienia zależy od wyboru metody dostawy.
Status przesyłki można sprawdzić wprowadzając numer przesyłki, który zostanie wysłany zaraz po jej przygotowaniu, na stronie wybranego przewoźnika.
Prosimy o kontakt telefoniczny lub mailowy, by móc edytować zamówienia. Podamy wszelkie szczegóły jak opłacić dobrane produkty lub zwrócimy środki na wskazany numer bankowy – w przypadku rezygnacji części zamówienia.
Szczegółowe informacje należy przesłać na adres mailowy bok@strefamocy.pl lub skontaktować się telefonicznie z naszym biurem pod numer 500 367 700. Brak możliwości skorzystania z usług operatorów płatności dostępnych w naszym sklepie tj. Tpay, PayU pośrednictwem, może rozwiązać przelew bankowy na rachunek podany w zakładce kontakt.
Szczegółowe koszty wysyłki są zależne od kraju docelowego oraz wagi przesyłki. Zostaje podany w podsumowaniu zamówienia po wprowadzeniu adresu dostawy.
W takim przypadku, produkt najczęściej może zostać sprowadzony na sklep w następny dzień roboczy.