CONTROLLED LABS Orange Triad 270 tablets
Ostatnie sztuki w magazynie!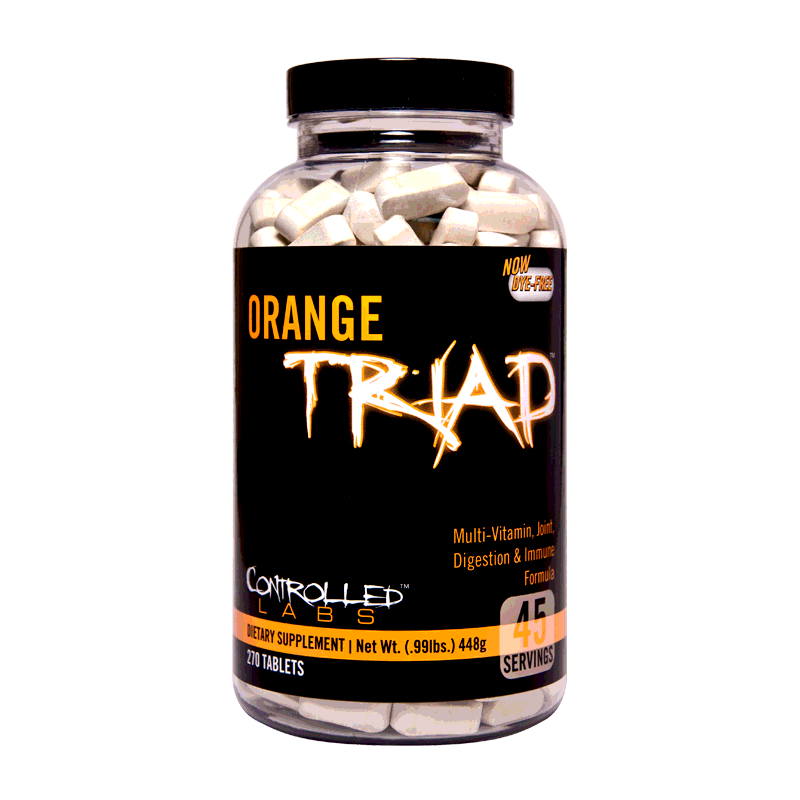 CONTROLLED LABS Orange Triad 270 tablets
Availability date:
Designed for the serious athlete, Orange Triad delivers! Serious athletes are unique in that they intentionally subject their bodies to incredible amounts of stress with training and cardio. Over time, muscles, tendons, and ligaments take longer to recover which means you can't train them as often as you would like. Nutritional support is key to getting optimal results from your training.
Orange Triad combines key vitamins, minerals, and nutrients for supporting optimal digestion, immune system, and joint health into one "twice daily" dietary supplement.
The Joint and Flex Complexes help lubricate joints and cartilage as well as increase the resiliency of connective tissue, while the Digestion and Immune Complex includes digestive aids, and nutrient partitioning agents to take your performance to the next level.
Key Attributes: 
Iron Free
45 servings
Optimize results from training
270 Tablets

 

Serving Size 6 Tablets

Servings Per Container

45

 

Amount Per Serving

% DV *

Vitamin A (as Alpha And Beta Carotene)

5,000 IU

100%

Vitamin C (as Ascorbic Acid)

600 mg

1,000%

Vitamin D (as Cholecalciferol)

2,000 IU

250%

Vitamin E (as D-Alpha, D-Beta, D-Gamma, D-Delta Tocopheryls And Tocotrienols)

20 IU

670%

Vitamin K (as Phytonadione)

120 mcg

150%

Thiamin (as Thiamin HCL)

30 mg

2,000%

Riboflavin

30 mg

1,765%

Niacin (as Inositol Hexanicotinate)

100 mg

500%

Vitamin B6 (as Pyridoxine)

30 mg

1,500%

Folic Acid

400 mcg

100%

Vitamin B12 (as Methylcobalamin)

600 mcg

8,333%

Biotin

300 mcg

100%

Pantothenic Acid (as Calcium Pantothenate)

100 mg

1,000%

Calcium (as As Citrate, Calcium D-Glucarate, Dicalcium Phosphate)

150 mg

25%

Phosphorus (as Di-Calcium Phosphate)

60 mg

5%

Iodine (as Potassium Iodide)

255 mcg

170%

Magnesium (as Magnesium Chelate)

100 mg

25%

Zinc (as Zinc Citrate)

30 mg

200%

Selenium (as Selenium Chelate)

100 mcg

290%

Copper (as Copper Chelate)

500 mcg

25%

Manganese (as Manganese Chelate)

3 mg

150%

Chromium (as Chromium Chelate)

25 mcg

21%

Molybdenum (as Molybdenum Chelate)

50 mcg

70%

Potassium (as Potassium Chloride)

50 mg

1%

Vanadium (as Vanadium Citrate)

10 mcg

**

Boron (as Boron Citrate)

500 mcg

**

 
 
 
 
 
 

Joint Compex™

2,000 mg

**

Glucosamine Sulfate And Chondroitin Sulfate

 

      

 
 
 
 
 
 
 

Flex Complex™

1,550

mg

**

MSM (Methyl-Sulfonyl-Methane), Bromelain (2000 GDU), And Hyaluronic Acid

 

Digestion And Immune Complex™

1,275

mg

**

Echinacea (As Root), Ginger Extract, Quercetin (98%), R-Alpha Lipoic Acid (100 Mg), Giant Knotweed (Root Extract), Bilberry (As Fruit), Blueberry Extract (As Fruit), Pomegranate (80% Extract), Grape Seed Extract, Raspberry Seed (As Fruit), Lycopene, Lutein

 

* Percent Daily Values (%DV) are based on a 2,000 calorie diet

** Daily Value not established

 

Other Ingredients

Stearic Acid

, Magnesium Stearate

, Croscarmellose Sodium

, Microcrystalline Cellulose

, Silicon Dioxide

, Hydroxypropylmethyl Cellulose

, Polyethylene Glycol

Contains:

Shellfish (Shrimp, Crab, And/or Lobster), Soy.

Allergen Warning:

Manufactured On Equipment Which Processes Products Containing Milk, Egg, Wheat, Soybeans, Shellfish, Fish Oil, Tree Nuts, And Peanuts.
Take 3 tablets twice per day with your meals (breakfast and dinner preferably).
For best results, Orange Triad� should be used in combination with other Controlled Labs products, at least 1-2 gallons of water per day, a high protein/moderate carbohydrate diet.
Opinie /

CONTROLLED LABS Orange Triad 270 tablets

Strefa dzięki za ten kompleks, moje zdrowie poszybowało w górę :)

sprawdź pozostałe opinie
Najczęściej zadawane pytanie dotyczące zamówienia
Przesyłka wysyłana jest w ciągu 24 godzin, jeśli produkt jest dostępny w magazynie. Ostateczny termin otrzymania zamówienia zależy od wyboru metody dostawy.
Status przesyłki można sprawdzić wprowadzając numer przesyłki, który zostanie wysłany zaraz po jej przygotowaniu, na stronie wybranego przewoźnika.
Prosimy o kontakt telefoniczny lub mailowy, by móc edytować zamówienia. Podamy wszelkie szczegóły jak opłacić dobrane produkty lub zwrócimy środki na wskazany numer bankowy – w przypadku rezygnacji części zamówienia.
Szczegółowe informacje należy przesłać na adres mailowy bok@strefamocy.pl lub skontaktować się telefonicznie z naszym biurem pod numer 500 367 700. Brak możliwości skorzystania z usług operatorów płatności dostępnych w naszym sklepie tj. Tpay, PayU pośrednictwem, może rozwiązać przelew bankowy na rachunek podany w zakładce kontakt.
Szczegółowe koszty wysyłki są zależne od kraju docelowego oraz wagi przesyłki. Zostaje podany w podsumowaniu zamówienia po wprowadzeniu adresu dostawy.
W takim przypadku, produkt najczęściej może zostać sprowadzony na sklep w następny dzień roboczy.