OLIMP Chela MZB Sport Formula 60 capsules
Ostatnie sztuki w magazynie!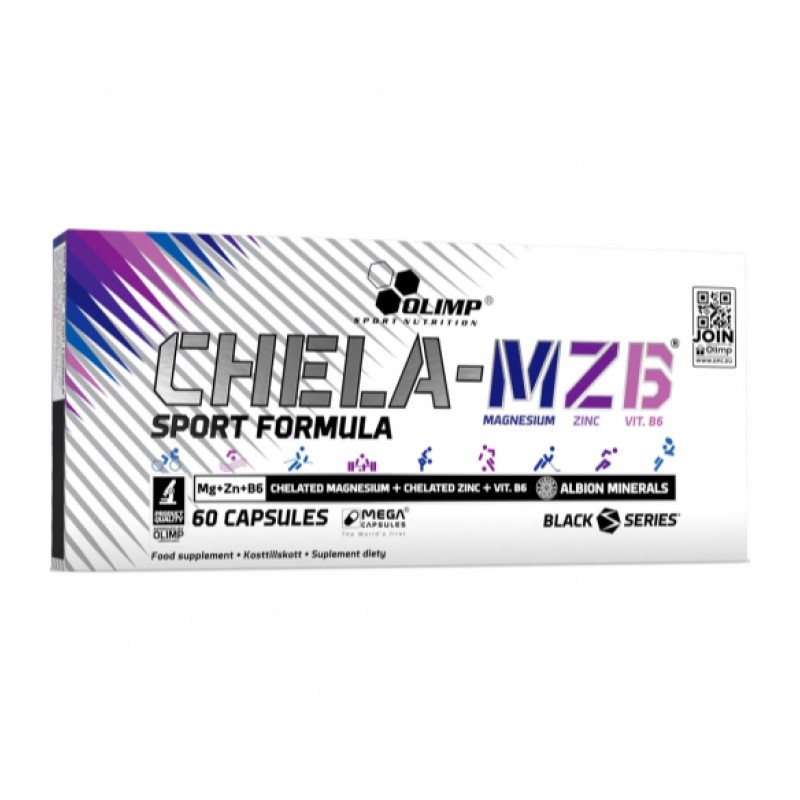 OLIMP Chela MZB Sport Formula 60 capsules
Availability date:
Product description

CHELA-MZB® SPORT FORMULA Highly available, chelated magnesium and zinc with vitamin B6.
Food supplement in capsules, containing highly available form of magnesium and zinc - amino acid chelates ALBION® with vitamin B6. Best before: see left side of the packaging.
Magnesium contributes to normal muscle function and to reduction of tiredness and fatigue. Zinc contributes to the maintenance of normal serum testosterone concentrations. Vitamin B6 contributes to regulation of hormonal activity. The product is designed especially for physically active persons and those exerting a great deal of physical and mental effort.
Application method
Recommended use: swallow 1-2 capsules about 1 hour before sleep. The product is recommended to adults as a food supplement. Keep out of reach of children. Do not exceed the recommended daily dose. Food supplements should not be used as a substitute for a varied and balanced diet. A varied and balanced diet and a healthy lifestyle are recommended.
Ingredients
Nutrition information
1 capsule 

2 capsule

Magnesium amino acid chelate ALBION ®
magnesium

1390 mg
250 mg (66%*)
2780 mg
500 mg (133%*)

Zinc amino acid chelate ALBION ® Zinc Chelazome ®
including: Zinc

75 mg
15 mg (150%*)
150 mg
30 mg (300%*)
vitamin B6
4 mg (285%*)
8 mg (570%*)
*% RDA - percentage of recommended daily intake
Magnesium bisglycinate (magnesium amino acid chelate ALBION®), zinc bisglycinate (zinc amino acid chelate ALBION®), pyridoxine hydrochloride – vit. B6, capsule (gelatin, colour: E 171).
Opinie /

OLIMP Chela MZB Sport Formula 60 capsules

Dobry produkt, który pomaga mi w regeneracji i zmniejsza zmęczenie

sprawdź pozostałe opinie
Najczęściej zadawane pytanie dotyczące zamówienia
Przesyłka wysyłana jest w ciągu 24 godzin, jeśli produkt jest dostępny w magazynie. Ostateczny termin otrzymania zamówienia zależy od wyboru metody dostawy.
Status przesyłki można sprawdzić wprowadzając numer przesyłki, który zostanie wysłany zaraz po jej przygotowaniu, na stronie wybranego przewoźnika.
Prosimy o kontakt telefoniczny lub mailowy, by móc edytować zamówienia. Podamy wszelkie szczegóły jak opłacić dobrane produkty lub zwrócimy środki na wskazany numer bankowy – w przypadku rezygnacji części zamówienia.
Szczegółowe informacje należy przesłać na adres mailowy bok@strefamocy.pl lub skontaktować się telefonicznie z naszym biurem pod numer 500 367 700. Brak możliwości skorzystania z usług operatorów płatności dostępnych w naszym sklepie tj. Tpay, PayU pośrednictwem, może rozwiązać przelew bankowy na rachunek podany w zakładce kontakt.
Szczegółowe koszty wysyłki są zależne od kraju docelowego oraz wagi przesyłki. Zostaje podany w podsumowaniu zamówienia po wprowadzeniu adresu dostawy.
W takim przypadku, produkt najczęściej może zostać sprowadzony na sklep w następny dzień roboczy.