JARROW FORMULAS Ubiquinol QH-absorb 200mg 60 sgels
Ostatnie sztuki w magazynie!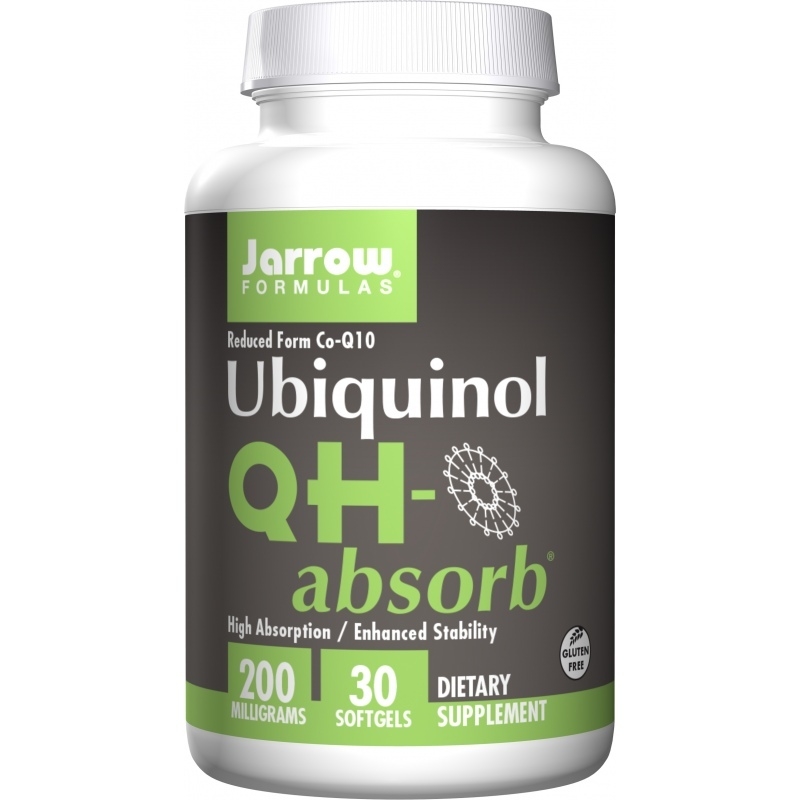 JARROW FORMULAS Ubiquinol QH-absorb 200mg 60 sgels
Availability date:
QH-absorb® is a proprietary, enhanced-stability formula, clinically shown in humans to increase Co-Q10 levels by 215% at 100 mg per day and by 777% at 300 mg per day.
Other Ingredients: medium chain triglycerides, sunflower lecithin and beeswax; rosemary extract, natural mixed tocopherols and ascorbyl palmitate added to maintain freshness. Softgel consists of bovine gelatin, glycerin and purified water; caramel and carob extract added as a light barrier.
No wheat, gluten, soybeans, dairy, egg, fish/shellfish, or peanuts/tree nuts.
Q+®, Kaneka QH®, Kaneka Ubiquinol™ and the quality seal™ are registered or pending trademarks of Kaneka Corp.
Particle formation inside softgel is normal and dissolves after ingestion.
Made in USA
Take 1 softgel per day with a meal or as directed by your qualified healthcare professional.
NOTE: If you have a medical condition, consult your healthcare professional before using this product.
Opinie /

JARROW FORMULAS Ubiquinol QH-absorb 200mg 60 sgels

Używam dwie kapsułki przed treningiem w połączniu z cytruliną i kofeiną. Nigdy wcześniej nie miałem takiej pompy i energii podczas ćwiczeń. Polecam takie połączenie

sprawdź pozostałe opinie
Najczęściej zadawane pytanie dotyczące zamówienia
Przesyłka wysyłana jest w ciągu 24 godzin, jeśli produkt jest dostępny w magazynie. Ostateczny termin otrzymania zamówienia zależy od wyboru metody dostawy.
Status przesyłki można sprawdzić wprowadzając numer przesyłki, który zostanie wysłany zaraz po jej przygotowaniu, na stronie wybranego przewoźnika.
Prosimy o kontakt telefoniczny lub mailowy, by móc edytować zamówienia. Podamy wszelkie szczegóły jak opłacić dobrane produkty lub zwrócimy środki na wskazany numer bankowy – w przypadku rezygnacji części zamówienia.
Szczegółowe informacje należy przesłać na adres mailowy bok@strefamocy.pl lub skontaktować się telefonicznie z naszym biurem pod numer 500 367 700. Brak możliwości skorzystania z usług operatorów płatności dostępnych w naszym sklepie tj. Tpay, PayU pośrednictwem, może rozwiązać przelew bankowy na rachunek podany w zakładce kontakt.
Szczegółowe koszty wysyłki są zależne od kraju docelowego oraz wagi przesyłki. Zostaje podany w podsumowaniu zamówienia po wprowadzeniu adresu dostawy.
W takim przypadku, produkt najczęściej może zostać sprowadzony na sklep w następny dzień roboczy.